When afternoon tea is in full flight under the lofty ceiling of The Charles, it's a beautiful sight. A trolley roams the room, groaning with cakes, chocolate and macarons, and guests sip artisan tea from fine china as they load up scones with preserves and cream. In many ways, The Charles offers a very traditional take on the afternoon tea, a concept masterminded in the mid-19th century by Anna, the seventh Duchess of Bedford, who would get peckish between lunch and her 8pm dinner. But in other ways, what head pastry chef Rhiann Mead and her team is doing is quite radical.
First, let's backtrack – here in Australia we typically call this meal 'high tea'. Yet in the UK, this betwixt-lunch-and-dinner feast is known as 'afternoon tea'. So, what's the difference? Traditionally, high tea was what the working classes in England might call dinner or supper (and it's not unusual for many Australians to have grown up calling this meal 'tea'). It was a filling meal of meat, carbs and, yes, tea, served after a long day of work. Still, scones, sandwiches and cakes scream 'high tea' to many down under.
"We didn't want to restrict ourselves to the limited options of a standard high tea menu," Mead says of The Charles' decision to call the service afternoon tea. "Being a European brasserie, we have a much broader range to choose from, and we wanted the menu to reflect that."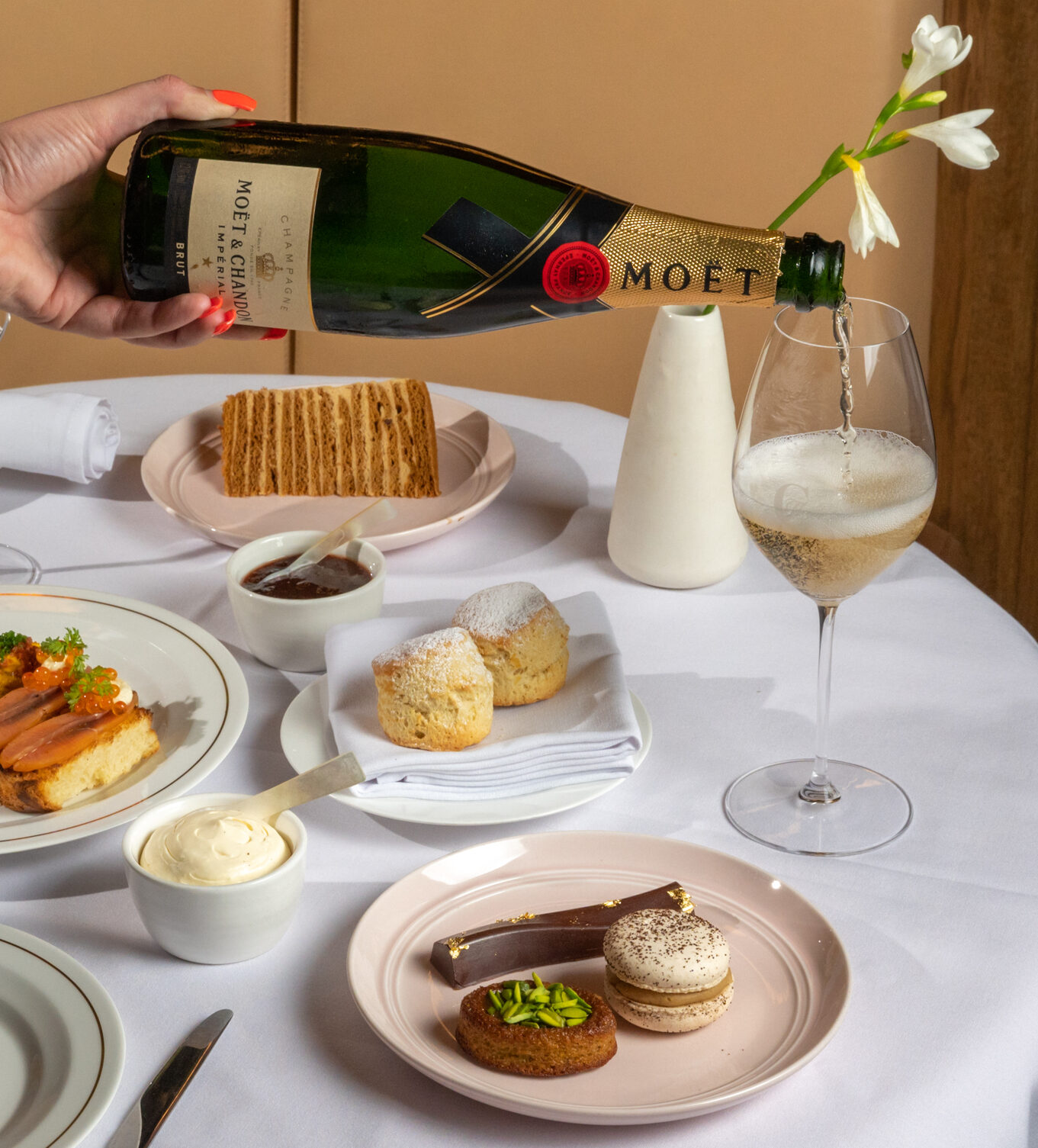 And Mead's menu has a few items one definitely wouldn't have seen on a Victorian-era high tea stand: unique takes on Kit-Kats, gummy bears and chocolate Flakes. "They're beautifully refined and elegant, but also bring a sense of nostalgia," she says. "They're something you'd never see on an afternoon tea menu elsewhere."
You probably also wouldn't catch The Charles' truly impressive honey cake on any other afternoon tea menus: it involves layer after layer (28 in total) of dulce de leche and honeycomb cake, making a spectacular crown for the dessert trolley.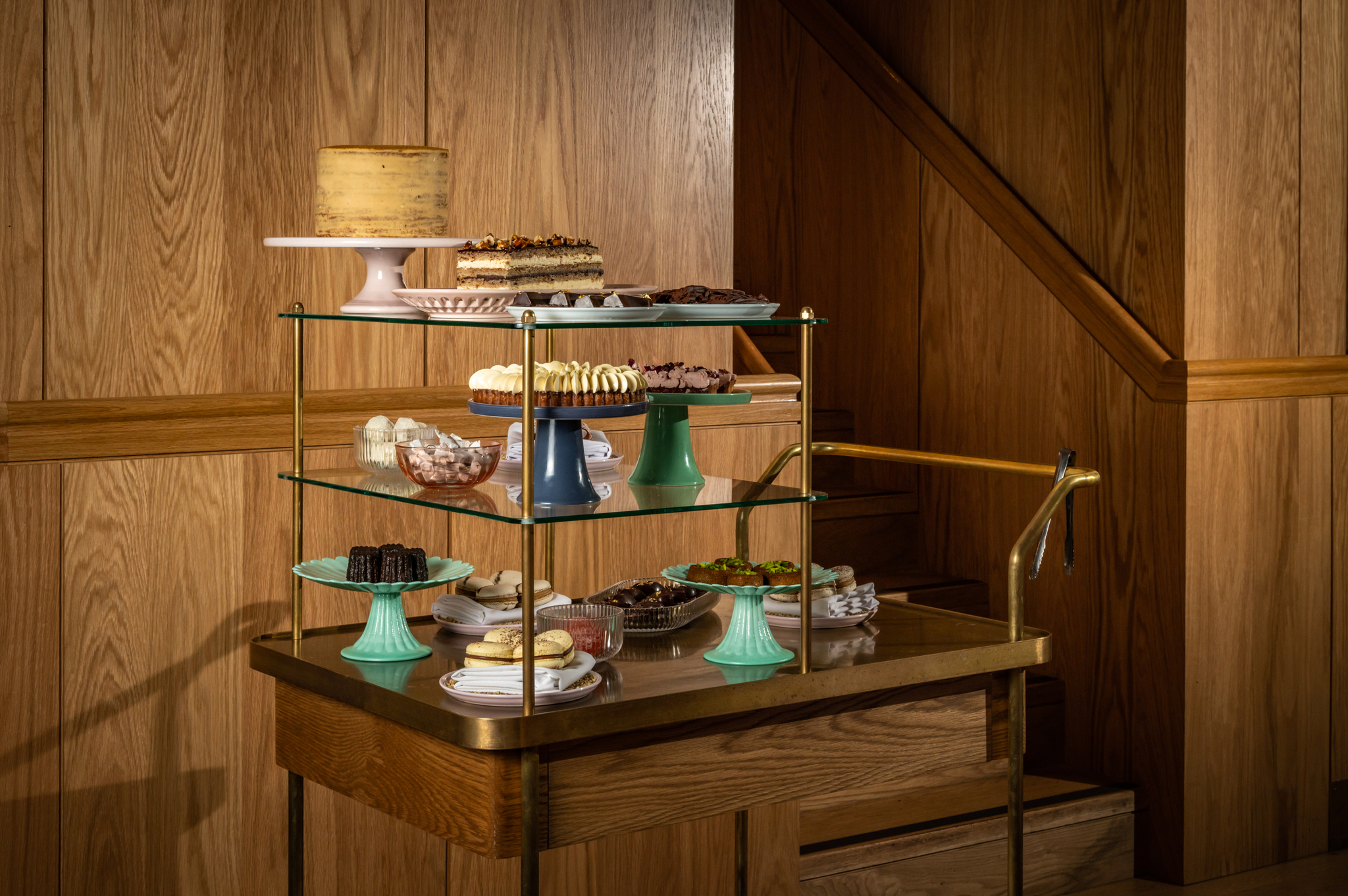 Speaking of the dessert trolley: it's a flourish you won't see at any other afternoon (or high) tea in Sydney. It comes by each table after they're served their scones and savouries, with diners invited to select from a bounty of sweets: the honey cake, tiramisu tarte, chocolates and macarons.
Some traditions, though, are never worth overthrowing. "You can't have afternoon tea without scones!" says Mead, whose team bakes the classic every day. She also offers a practical answer to that old-age question: does the jam go first, or the cream?
"I'm a jam-first girl," she says. "A scone will absorb more jam than it will cream, so it makes sense to do it in that order if you want to maximise your toppings!"
Afternoon Tea is available 12-5pm, 7 Days a week in The Charles Brasserie. Visit www.thecharles.sydney for more information